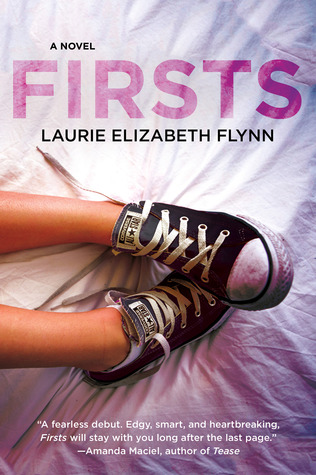 Title: Firsts
Series: n/a
Author: Laurie Elizabeth Flynn
Genre: YA
Format: ARC paperback, 320 pages
Publication Date: January 5, 2016
Published By: St. Martin's Griffin
Source: Received from publisher for review and tour.
Synopsis from Publisher
Seventeen-year-old Mercedes Ayres has an open-door policy when it comes to her bedroom, but only if the guy fulfills a specific criteria: he has to be a virgin. Mercedes lets the boys get their awkward, fumbling first times over with, and all she asks in return is that they give their girlfriends the perfect first time- the kind Mercedes never had herself.

Keeping what goes on in her bedroom a secret has been easy- so far. Her absentee mother isn't home nearly enough to know about Mercedes' extracurricular activities, and her uber-religious best friend, Angela, won't even say the word "sex" until she gets married. But Mercedes doesn't bank on Angela's boyfriend finding out about her services and wanting a turn- or on Zach, who likes her for who she is instead of what she can do in bed.

When Mercedes' perfect system falls apart, she has to find a way to salvage her reputation and figure out where her heart really belongs in the process. Funny, smart, and true-to-life, FIRSTS is a one-of-a-kind young adult novel about growing up.
About Helene Boudreau
Laurie Elizabeth Flynn writes contemporary fiction for young adults. Her debut, Firsts, is out now with Thomas Dunne Books/St Martin's Press.
Laurie went to school for Journalism, where the most important thing she learned was that she would rather write made-up stories than report the news. She also worked as a model, a job that took her overseas to Tokyo, Athens, and Paris.
Laurie now lives in London, Ontario with her husband Steve, who is very understanding when she would rather spend time with the people in her head. Laurie can mostly be found writing happily at her desk, with the world's most spoiled Chihuahua on her lap. Laurie drinks way too much coffee, snorts when she laughs, and times herself when she does crossword puzzles.
Laurie is represented by the amazing Kathleen Rushall of the Marsal Lyon Literary Agency. Learn more about Laurie at www.laurieelizabethflynn.com.
Short Q&A
RNS: While writing the book, did you worry about the criticism you might receive for creating an obviously promiscuous character?
I didn't let any self-doubt creep in while I was writing. I blocked out the inner noise because I wanted to get the words down before I got in my own way. When I was finished writing and started querying, the nerves started to take over. I knew I had taken a huge risk with this book. But I had faith in the story. I know the subject matter might be polarizing and it won't be a book for everyone, but the reaction from the YA community has been so incredible.
RNS: Where did you get the idea to write this particular story, and did you ever have reservations about marketing it as a YA book?
I wish I knew how this particular idea came to me. I just know that all of a sudden the name "Mercedes" and the hook popped into my head and wouldn't leave until I sat down and wrote the story. Previously, I had written two New Adult contemporaries, so Firsts was my first foray into YA. I wasn't all that savvy about marketing at that point, but I knew Firsts felt different than my New Adult books. It felt like something that teens would hopefully want and need. When I was querying, I definitely worried that the content would be deemed too racy for YA, but luckily I ended up with a fearless agent who believed in me and the book.
My Thoughts:
Immediately I want to point out that this book contains very mature subject matter and might not be for everyone. I honestly found it slightly uncomfortable myself at first as it goes against the way I was raised, but I quickly recovered from my discomfort and enjoyed the book greatly.
Mercedes wants to be loved, but she doesn't really know it. Named after a car her father loved more than her, the same car he ran away from her and her mother in, and stuck with a mother who wants to be more like her party friend than her mother, Mercedes is left feeling a little empty inside.
It is also implied very early on (so no spoiler here) that Mercedes did not have an enjoyable "first time" and that something happened to turn that relationship very sour. As such, Mercedes is determined to make sure other girls get their perfect first time. She helps the boys in the relationship by being their first so that they can then go ahead and make their girlfriend's first time that special moment it is meant to be.
Mercedes insists on keeping every aspect of her life separate and compartmentalized. She doesn't let many people get too close. She has one friend, Angela, who is unaware of the other aspects of her friend's life. She has one guy she enjoys having sex with, but she doesn't consider him a friend, and definitely not a boyfriend. He is kept separate from her friend and everything else. Then there are the guys she "helps". They aren't friends, they aren't boyfriends, they usually don't even know one another. All they are are nicknames and numbers in a notebook. They have no other part in her life. But can things really remain that way forever? What happens when everything starts to mingle and mix together? You really need to read this book to find out!